The GIANT Black Belt Club allows all students of the Purple Belt level and above to get together twice per month for advanced training. Once you reach Purple Belt you will be invited to take part in this class which will improve your skills by training with other advanced students on high level specific drills, concepts and sparring. Ensure t...
Read More ...
Now for the 4th year in a row, GIANT is hosting a FREE Women's Self Defence Workshop to help raise funds and awareness for the charity known as White Ribbon. White Ribbon is committed to helping to drive change in attitudes and behaviours that lead to violence in many women's lives. Our support is critical and plays an important r...
Read More ...
Demo Team Training is on the following Friday's 10th, 17th and 24th of November 2017. Next Demo Show is on at the Clemton Park Public School Fete - Saturday 25 November 2017. Note we will be on the main stage at 11:30am and 1:30pm, come down and support. Being part of the Demo Team will take your Martial A...
Read More ...
Time to show your skills and test your boundaries to get to the next level!! The next GIANT Grading test is held at the dojang 170 Stoney Creek Road, Bexley NSW. Make sure you organise your "Grading Buddies" who have been fully trained in your techniques. Your grading buddy should preferably not be students also grading but stud...
Read More ...
2nd December 2017 @ Evatt Park Lugarno 10am start!!! Be there to celebrate all the award recipients for 2017 along with Instructor Anthony's 4th Degree achievement. This is a great event to loosen up with all your training buddies, reflect on last years training, take some cool photos including the annual "Class of 2017" gro...
Read More ...
Welcome Bianca Karaboulis to the GIANT Splits Club! Flexibility is fundamental to any martial artist independent of their skill level. Keeping a good degree of flexibility in the whole body is important. As a martial artist, we concentrate mainly on lower back and leg flexibility, especially the hip joint. But we shouldn't fo...
Read More ...
An injury can drain your motivation. Avoiding injury can be achieved by always warming up correctly, constant stretching and taking your time learning techniques. Unfortunately, however all physical activity carries a risk of injury. If you are to sport an injury, tell your instructor immediately, record it and take note of the following info...
Read More ...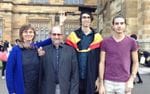 The benefits of good exercise are well documented...and martial arts takes that exercise to another level developing habits for life such as Focus, Discipline and the "will" to succeed! Do you not think your child needs these attributes to succeed academically? In our experience we have zero doubt they do as the best student...
Read More ...
Articles via RSS