BJJ Seminar with UFC & World Champ Anthony Perosh
Written on the 3 December 2020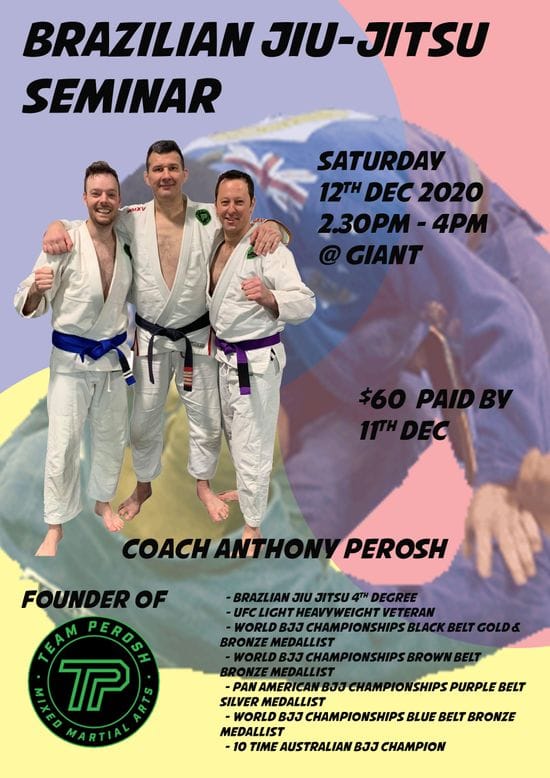 We welcome again head coach and 4th Degree BJJ Black Belt Anthony Perosh to our academy.
Spend some quality 1 on 1 time with a UFC legend and BJJ World Masters Champion. He will share techniques, stories and answer anything you would like to ask. He will specifically cover his high percentage techniques that he has used for success at the BJJ World Championships and UFC.
Where: GIANT Martial Arts Bexley
When: Saturday 12th December following the BJJ Grading from 2:30pm
All levels of all styles welcome!
Cost: $60
Photo opportunities will be allowed.
Be sure to bring either a T-Shirt or a Rashie. Open to all styles with participants over 14 years of age!
Anthony Perosh has accredited himself with:
- 4th Degree Black Belt in Brazilian Jiu-Jitsu
- Black Prajied in Muay Thai Kickboxing
- Black Belt in Kempo Karate
- UFC Light Heavyweight Veteran
- BJJ World Champion
- Started training in 1994
Anthony Perosh is a pioneer of Mixed Martial Arts in Australia, a UFC (Ultimate Fighting Championship) Light Heavyweight veteran, Muay Thai Kickboxing coach and 4th Degree Brazilian Jiu Jitsu (BJJ) Black Belt.
Anthony has competed on all levels in BJJ and has won competitions including:
Double Gold Medal 2018 World Brazilian Jiu Jitsu Championships - Black Belt
Bronze Medal 2003 World Brazilian Jiu Jitsu Championships - Brown Belt
Silver Medal 2000 Pan American BJJ Championships - Purple Belt
Bronze Medal 1999 World Brazilian Jiu Jitsu Championships - Blue Belt
5 time ADCC veteran
10 time Australian BJJ Champion
Anthony made his MMA debut in November 2003 winning an 8 man heavyweight tournament in one night. In 2006 Anthony made his debut fighting in the UFC.