Subscribe to our Newsletter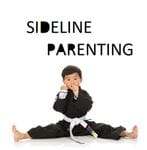 Hey Parents, In today's society, we can expect parents to over-step boundaries, particularly when it comes to coaching from the sideline. Alot of us parents are guilty of this to a degree from time to time. This article is to help inform "sideline parents" of the harmful effects their actions are causing. Why Coaching f...
Read More ...
Congratulations to all students who passed the recent grading which completes Term 1 of 2019. About 188 student's graded this term and we have a serious group of Red and Brown belts who will be looking at their Black Belt goal over the next year! More photos on Facebook Now we begin Term 2 for 2019 ending in Ju...
Read More ...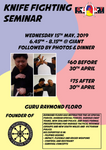 You dont want to miss this... Raymond Floro has instructed the US Special Forces, Korean Special Forces, various SWAT teams, New Zealand Police, and does formal presentations for various Tactical Response Groups and Victorian Police. He specialises in: - Filipino Boxing
- Impact, Flexible and Edged Weapons
- Control & Rest...
Read More ...
Congratulations to the recent Students of the Month who have shown great effort, attitude and dedication toward their training, shining above the rest. Only one student gets chosen in each of the martial art programs. Remember that once you receive a Student of the Month award, you are in the running for Student of the Year! &nb...
Read More ...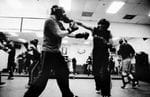 We are having another combined sparring session for Australian Hapkido Association (AHA) students and Giant Martial Arts students. Our two organisations have shared a long history of training together since 2007 so let's keep this event going. Last one was in April 2019. The aim of the session is to provide students the opportunity to...
Read More ...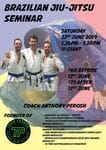 Plan to get to this!!! - 4th Degree Black Belt in Brazilian Jiu-Jitsu
- Black Prajied in Muay Thai Kickboxing
- Black Belt in Kempo Karate
- UFC Light Heavyweight Veteran
- BJJ World Champion
- Started training in 1994 Anthony Perosh is a pioneer of Mixed Martial Arts in Australia, a UFC (Ultimate Fighting Championship) Ligh...
Read More ...
The Demo Team is KICKING back into gear for 2019! If you are interested in increasing your skill level and gain confidence to the ultimate level, come and find out how to join our Demo team. Training is organised via a personalised Whatsap group month to month and is usually on a Frdiay evening. Being part of the Demo Team will ta...
Read More ...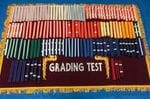 Time to show your skills and test your boundaries to get to the next level!! The next GIANT Colour Belt Hapkido Grading test is held at the dojang 170 Stoney Creek Road, Bexley NSW. Remember to pack your full uniform with correct badges, water, towel, student workbook and sparring gear (intermediate & advanced students). All paren...
Read More ...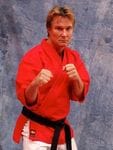 Richard Norton's career in the martial arts now spans over 55 years. He has trained in many styles of martial arts including Judo, Kickboxing and various Japanese weapon systems. He holds a 5th degree Black Belt in BJJ under the Machado brothers, a 5th degree in Goju Ryu Karate under Tino Ceberano, 9th degree Zen Do Kai Karate under B...
Read More ...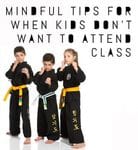 Hey Parents, One of the biggest challenges parents face when it comes to their kid's training is what to do when their kids don't want to attend class. This article has been written to help you as parents with this issue. Feel free to share this with other parents as this issue is not only for Martial Arts, but all activities tha...
Read More ...
Articles via RSS