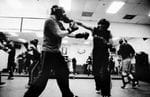 We are having another combined sparring session for Australian Hapkido Association (AHA) students and Giant Martial Arts students. Our two organisations have shared a long history of training together since 2007 so let's keep this event going. Last one was in November 2017. The aim of the session is to provide advanced students the op...
Read More ...
GIANT Dojang will be closed for the Anzac Day public holiday coming up on Wednesday 25th April 2018. Dojang will closed on the Wednesday only and classes will resume Thursday.
We hope you enjoy your long weekend break from training and come back revitalised and refreshed!
Read More ...
Time to show your skills and test your boundaries to get to the next level!! The next GIANT Colour Belt Hapkido Grading test is held at the dojang 170 Stoney Creek Road, Bexley NSW. Remember to pack your full uniform with correct badges, water, towel, student workbook and sparring gear (intermediate & advanced students). All paren...
Read More ...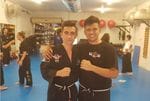 Come along and support young Joshua Charr and Justin Selems on their BIG DAY!!! They both started training with Instructor Giorgio in 2011 and are finally ready for one of their toughest days yet. In addition to training consistently they have been great Student Leader role models to many other students. Be sure to wish them luck! O...
Read More ...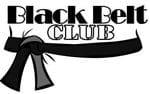 Black Belt Club is taking your training to the next level. It will allow exclusive access to advanced curriculum not taught in mainstream classes and begin to challenge students in their personal development. The GIANT Black Belt Club allows all students of the Purple Belt level and above to get together twice per month for advanced training....
Read More ...
Demo Team Training is on the first Friday of each month unless otherwise advised. Next Demo Show is TBA. Being part of the Demo Team will take your Martial Arts skill to the next level. You will learn what it takes to be part of an Elite team with a purpose to show your superb skill to the greater community! ...
Read More ...
Welcome Bianca Karaboulis to the GIANT Splits Club! Flexibility is fundamental to any martial artist independent of their skill level. Keeping a good degree of flexibility in the whole body is important. As a martial artist, we concentrate mainly on lower back and leg flexibility, especially the hip joint. But we shouldn't fo...
Read More ...
You dont want to miss this... Raymond Floro has instructed the US Special Forces, Korean Special Forces, various SWAT teams, New Zealand Police, and does formal presentations for various Tactical Response Groups and Victorian Police. He specialises in: - Filipino Boxing - Impact, Flexible and Edged Weapons - Con...
Read More ...
An injury can drain your motivation. Avoiding injury can be achieved by always warming up correctly, constant stretching and taking your time learning techniques. Unfortunately, however all physical activity carries a risk of injury. If you are to sport an injury, tell your instructor immediately, record it and take note of the following info...
Read More ...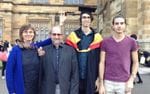 The benefits of good exercise are well documented...and martial arts takes that exercise to another level developing habits for life such as Focus, Discipline and the "will" to succeed! Do you not think your child needs these attributes to succeed academically? In our experience we have zero doubt they do as the best student...
Read More ...
Articles via RSS