Subscribe to our Newsletter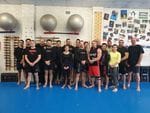 Many keen students got to train with Official Ken Shamrock @ Giant Martial Arts! Two hours of jammed packed action with a UFC Hall of Fame member and WWE professional wrestler, Ken is considered one of the top 10 greatest mixed martial arts fighters of all time by Inside MMA Magazine. Everyone took away some cool leg lock secrets. Thi...
Read More ...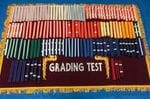 Time to show your skills and test your boundaries to get to the next level!! The next GIANT Colour Belt Hapkido Grading test is held at the dojang 170 Stoney Creek Road, Bexley NSW. Remember to pack your full uniform with correct badges, water, towel, student workbook and sparring gear (intermediate & advanced students). All paren...
Read More ...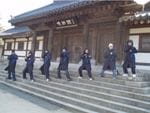 See pictured Instructors Giorgio & Anthony with a team on a winter training trip in South Korea. Take note of the following tips to train injury free during Winter: Arrive Early No, not to turn the heating on. To warm yourself up. In winter, it's particularly important to engage in a rigorous warm up. This isn't just t...
Read More ...
Check out the highlights of BJJ grading last weekend run by coach Anthony Perosh. Congratulations to all who passed! More photos on Facebook Check out the highlight video below: Following the Brazilian Jiu-Jitsu Grading we had a BJJ Specific for MMA Seminar also with coach Anthony Perosh. Content covered ho...
Read More ...
Congratulations to everyone who passed their new armband ranks at the recent Kickboxing beginners grading test at GIANT. Let's kick away at the next three months and aim higher for the September Spring grading! More photos on Facebook Check out the highlights video below: If you would like m...
Read More ...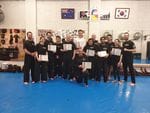 Recently we had a group of students participate in a grading test on one of the GIANT weapon systems of Knife Defence. Congratulations to everyone who passed their new ranks! More photos on Facebook Check out the highlight video of the grading which demonstrates the many skills the students learnt to approach an attacker with a kn...
Read More ...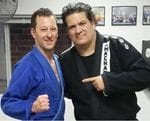 Rigan Machado (born 2 July 1966 in Rio de Janeiro, Brazil) is an 8th degree rank in Brazilian Jiu Jitsu under Carlos Gracie Jr. Rigan Machado currently teaches out of his Beverly Hills California Academy and is instructor to notable students Ashton Kutcher, Vin Diesel, Keanu Reeves, Wesley Snipes and Charlie Hunnam from the television sho...
Read More ...
Wesley Trent Snipes (born July 31, 1962) is an American actor, film producer, martial artist and author. His prominent film roles include "Bad" Music Video with Michael Jackson (1987), Major League (1989), Mo' Better Blues (1990), New Jack City (1991), White Men Can't Jump (1992), Demolition Man (1993), and the Marvel Co...
Read More ...
Congratulations to the recent Students of the Month who have shown great effort, attitude and dedication toward their training, shining above the rest. Only one student gets chosen in each of the martial art programs. Remember that once you receive a Student of the Month award, you are in the running for Student of the Year! &nb...
Read More ...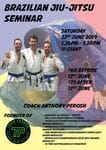 Plan to get to this!!! Following the BJJ Grading we are hosting Coach Anthony Perosh at a special seminar on BJJ for MMA! Be sure to bring either a T-Shirt or a Rashie. Open to all styles with participants over 14 years of age! Anthony Perosh has accredited himself with: - 4th Degree Black Belt in Brazilian Jiu-Jitsu
- Black Pra...
Read More ...
Articles via RSS