Now for the 5th year in a row, GIANT is hosting a Women's Self Defence Workshop to help raise funds and awareness for the charity known as White Ribbon. White Ribbon is committed to helping to drive change in attitudes and behaviours that lead to violence in many women's lives. Our support is critical and plays an important role i...
Read More ...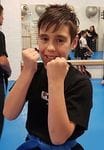 Before you read the article on how Martial Arts can end bullying, see what one of our parents had to say about how the techniques her child learnt @ GIANT really did work against a bully: From: Danielle Aktypis
Sent: Sunday, 23 September 2018 2:02 PM
To: train@giantma.com.au
Subject: Chris

Hi Anthony & Giorgio,

Just th...
Read More ...
24th November 2018 @ South Punchbowl Scout Hall 84b Karne St, Roselands Event starts at 10am, formalities and awards at 11am followed by a performance from our Demo Team and then lunch. Be there to celebrate all the award recipients for 2018 along with brand new Black Belt achievers Joshua Chaar and Justin Souros who will tell you a b...
Read More ...
About 170 GIANT students have recently graded which completes Term 3 of 2018. Congratulations to all who passed. Special mention to Jesse Kircher who received his Provisional Black Belt after 9 years of training. He started in June 2009 and never gave up! His next challenge will be the 1st Degree Black Belt test with Master Ryoo next ...
Read More ...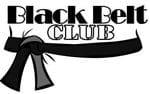 Black Belt Club is taking your training to the next level. It will allow exclusive access to advanced curriculum not taught in mainstream classes and begin to challenge students in their personal development. The GIANT Black Belt Club allows all students of the Purple Belt level and above to get together twice per month for advanced training....
Read More ...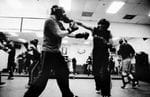 We are having another combined sparring session for Australian Hapkido Association (AHA) students and Giant Martial Arts students. Our two organisations have shared a long history of training together since 2007 so let's keep this event going. Last one was in May 2018. The aim of the session is to provide advanced students the opportu...
Read More ...
Welcome Natalie Vasilevski and Tijana Smith to the GIANT Splits Club! Flexibility is fundamental to any martial artist independent of their skill level. Keeping a good degree of flexibility in the whole body is important. As a martial artist, we concentrate mainly on lower back and leg flexibility, especially the hip joint. But we sho...
Read More ...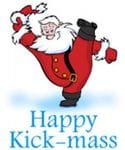 ITS XMAS TIIIIIMMMEEE!!!!!! We hope everyone is looking forward to some valuable rest time. Dojang will be closed from Friday 21st 2018 and classes will resume Monday 7 January 2019. Merry Kick-mass to all and enjoy this special time with your family and friends. Reflect on your achievements this year and let's make next year bigg...
Read More ...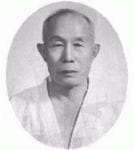 Happy Birthday to Hapkido Founder Choi Yong Sul born on 9th November 1904. During the late 1800's to 1945, Korea was involved in conflict with China and Japan. During this period, many Koreans learned extensively about martial arts being practiced in these countries. In 1910, Japan annexed Korea, abolished the Korean monarchy and outl...
Read More ...
Happy Birthday to Carlos Machado who was born on 9th November, 1963. He is the eldest of the five Machado Brothers, well known for their efforts in the promotion of Brazilian Jiu Jitsu. The other brothers are Roger, Rigan, Jean Jacques and John Machado. Carlos started martial arts at the age of four. His main instructor throughout his...
Read More ...
Articles via RSS