Happy Birthday Hapkido Black Belt Jackie Chan
Written on the 19 March 2022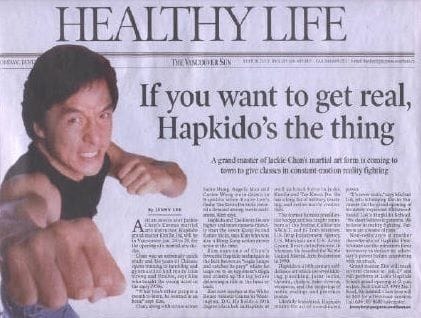 Jackie Chan born on the 7th April 1954, is a Hong Kong martial artist, actor, film director, producer, stuntman, and singer. He is well known for his acrobatic fighting style, comic timing, use of improvised weapons and innovative stunts a lot of which he performs himself. He is a Black Belt in Hapkido and trained in other Martial Arts styles such as Karate, Judo, Wushu Kung Fu Taekwondo and Jeet Kune Do.
He has been acting since the 1960s, appearing in over 150 films winning over 28 film awards for various achievements.
Chan is one of the most recognised and influential cinematic personalities in the world, gaining a widespread following in both the Eastern and Western hemispheres, and has received stars on the Hong Kong Avenue of Stars, and the Hollywood Walk of Fame. He has been referenced in various pop songs, cartoons, and video games.
He is an operatically trained vocalist having released a number of albums and sung many of the theme songs for the films in which he has starred. He is also a globally known philanthropist and has been named as one of the top 10 most charitable celebrities by Forbes magazine. In 2004, film scholar Andrew Willis stated that Chan was "perhaps" the "most recognised star in the world". In 2015, Forbes estimated his net worth to be $350 million, and as of 2016, he was the second-highest paid actor in the world.