Happy Birthday James Sheedy
Written on the 24 May 2019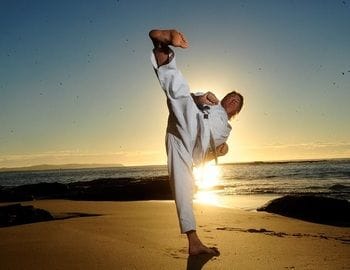 James Sheedy started training in 1975 in the traditional art of Tae-Kwon-Do. Since that time James has trained and taught literally thousands of students with hundreds obtaining the rank of 1st Degree Blackbelt with some Blackbelts obtaining 2nd, 3rd, 4th and 5th Degree ranks.
Currently he has a number of Senior Blackbelts / Instructors that have trained continuously for nearly 30 years, offering an excellent variety of experience.
All classes are taught by Master Instructor James Sheedy, 6th Degree Blackbelt, internationally accredited. With over 30 year's experience, James has trained extensively overseas with some of the best martial artists in the world.
His reputation for developing a dynamic and innovative fighting system has allowed his students to become some of the best and most effective Blackbelts in the country.
James established and taught Tae-Kwon-Do at Macquarie, Sydney and NSW Universities for 18 years. He has also taught the Australian Defence Force which included personnel stationed at Garden Island, Williamstown Air Force Base, 3 RAR Holsworthy and Reserve Commando Regiment at St Ives, as well as members of the police force. James has also conducted stretching programmes for prominent NRL football teams and other sporting organisations.
GIANT Instructors Giorgio and Anthony have shared a good history of training together and sharing ideas. James Sheedy has graded Instructor Anthony to the rank of Brown Belt in his system of Freestyle Taekwondo.
Philosophy
With over 35 years of training in the martial arts, James Sheedy has come to value its principals and benefits, more particularly as his training and teaching has evolved over the years.
Today's students can train in many forms of martial arts and pursue their goals in many areas. There is more worldwide recognition than ever before and the arts have become more comprehensive and skilful as they have evolved. Simply more exciting and dynamic!
Regardless of what you train in, you need to respect its values. You need to train with a commitment second to none and train with discipline in the most basic of techniques through to the most advanced skills.
We train and follow the principal of Satori from the Japanese Zen tradition, which describes the natural harmony of body, mind and emotion. When the mind, free of internal distractions, is pure attention to the present moment, when the emotions, free of obstructing tension, manifest a pure motivational energy we seek this through training hard.

James' website is http://jamessheedy.com.au/