Happy Birthday to Chuck Norris
Written on the 21 February 2022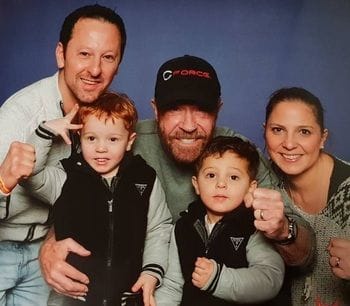 There is alot to be said about this phenomenal martial artist. He is among the first generation who popularised martial arts on T.V, training and co-starring with the likes of Bruce Lee, Sylvester Stallone, Jason Statham, Arnold Schwarzenegger, Bruce Willis and Jean-Claude Van Damme to name a few.
Carlos Ray Norris (born March 10, 1940) is an American martial artist, actor, film producer and screenwriter. After serving in the United States Air Force, he competed as a martial artist, won many championships, and he has since founded his own school of fighting, Chun Kuk Do. His martial arts achievements are:
10th degree Black Belt in Chun Kuk Do
9th degree Black Belt in Tang Soo Do
8th degree Black Belt in Taekwondo
5th degree Black Belt in Karate
3rd degree Black Belt in Brazilian jiu-jitsu from the Machado family
Black Belt in Judo
Chuck Norris is familiar to fans worldwide as the star of action films such as The Hitman (1991), The Delta Force (1986) and Delta Force 2: The Colombian Connection (1990). He also starred in Missing in Action (1984) and its sequels, Firewalker (1986) and Sidekicks (1992). He was an executive producer of Walker, Texas Ranger (1993) as well as the star. He also played a role in The Expendables 2 (2012).
Awards and Honors
As a martial artist:
In 1967, he won the Sparring Grand Champions at the S. Henry Cho's All American Championship, and won it again the following year.
In 1968, he won the Professional Middleweight Karate champion title, which he held for six consecutive years.
In 1969, he won Karate's triple crown for the most tournament wins of the year.
In 1969, he won the Fighter of the Year award by Black Belt magazine.
In 1982, he won Action Star of the Year at the ShoWest Convention.
As a Hollywood Star.
In 1989, he received his Star on the Hollywood Walk of Fame.
In 1992, he won International Box Office Star of the Year at the ShoWest Convention.
In 1997, he won the Special Award of being a Texas legend at the Lone Star Film & Television Awards.
From 1997 to 1998, he won for three consecutive years the BMI TV Music Award at the BMI Awards.
In 1999, Norris was inducted into the Martial Arts History Museum's Hall of Fame.
In 1999, he was nominated for Favorite Actor in a Drama by the TV Guide Award.
In 1999, he won the Inspirational Acting in Television Award at the Grace Prize Award.
On July 1, 2000, Norris was presented the Golden Lifetime Achievement Award by the World Karate Union Hall of Fame.
In 2001, he received the Veteran of the Year at the American Veteran Awards.
In 2001, he won the Golden Boot and the Golden Boot Awards.
On March 28, 2007, Commandant Gen. James T. Conway made Norris an honorary United States Marine during a dinner at the commandant's residence in Washington, D.C.
On December 2, 2010, he (along with brother Aaron) was given the title honorary Texas Ranger by Texas Governor Rick Perry.
In 2010, he won the Lifetime Achievement Award at the ActionFest.
In 2017 he was honoured as "Honorary Texan" because for many years he has lived at his Texas ranch near Navasota and he starred as Texas Ranger in his movie Lone Wolf McQuade and starred as ranger Cordell Walker in TV series Walker, Texas Ranger.
In late 2018 Instructor Giorgio was honoured to meet with Chuck Norris with his family. Below are a few star photos of Chuck: