Happy Birthday to Royce Gracie
Written on the 15 November 2019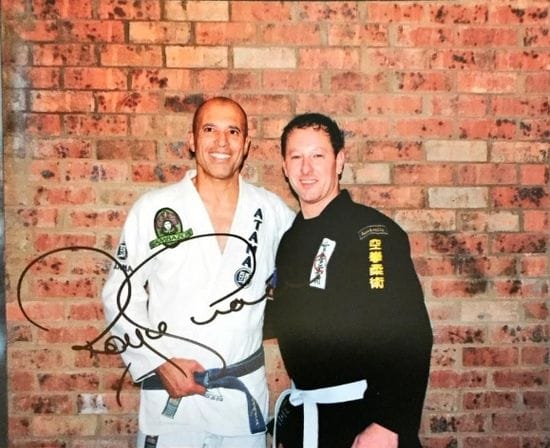 Happy Birthday to Professor Royce Gracie born December 12, 1966.
Royce is a retired professional mixed martial artist who competed in Bellator, the Ultimate Fighting Championship (UFC) and a Brazilian Jiu-Jitsu (BJJ) practitioner. A member of the famed Gracie family, alongside brother Rickson he is considered to be one of the most influential figures in the history of MMA.
Royce gained his fame for success in the UFC of which he is also in the Hall of Fame. Between 1993 and 1994, he was the tournament winner of UFC 1, UFC 2, UFC 4, and fought to a draw with Ken Shamrock in the championship match in the Superfight at UFC 5. Gracie popularised BJJ and revolutionized mixed martial arts with his results contributing to the movement towards grappling and ground fighting in the sport.
Royce Gracie was born in Rio de Janeiro, Brazil and is one of nine children, seven of whom are boys. His training in Jiu-Jitsu began at a very early age as a game with his father Helio. Royce began competing in tournaments at age eight. He received his blue belt at age 16 and was promoted to black belt in less than two years, then moving to the USA at age 18 to live with his brother, Rorion. They began teaching private classes out of their garage, sometimes for more than ten hours a day. Together they opened the Gracie Jiu-Jitsu Academy in Torrance, California. Although Royce no longer teaches there due to disputes with his brother and nephews Rener and Ryron Gracie, it remains one of the largest BJJ schools in the country.
In addition to Royce's success in the UFC , he also holds the record for the longest MMA match in history: 90 minutes against Japanese superstar Kazushi Sakuraba (The Gracie Hunter who beat 4 Gracie's: Royler, Renzo, Ryan and Royce Gracie). Royce also showed a good performance against Olympic Judo Gold Medalist Hidehiko Yoshida, however the loss is disputed by Gracie. His largest opponent was Sumo Grand Champion Akebono, 6'8 486 pounds. Royce vs. Akebono was the main event of K-1 Premium Dynamite New Years Eve show 2004. Royce defeated the giant in just 2min and 13sec with a shoulder hammer lock using his legs (Omoplata). Royce's continued success has opened the eyes of many disbelievers to the importance of leverage and technique in grappling.
His list of notable students are the likes of Ed O'Neal, Guy Ritchie, Jim Carrey, Josh Duhamel and Nicholas Cage. He has also been very active with the CIA, FBI, Special Forces and many sheriff and police departments. His G.R.A.C.I.E. course for law enforcement has gained international recognition. Aside from teaching at his Networks across the United States, he regularly visits Canada, England, Scotland, Portugal, Spain, Israel, Australia, UAE and South America.
Royce makes his home in Southern California with his wife, Marianne, three sons, Khonry, Khor and Kheydon and daughter, Kharianna.
His MMA record is as follows:
Total fights 20
Wins 15
Losses 2
Draws 3
View the pics below of GIANT Instructor Giorgio training with Royce in 2014 and many other famous pics of Royce Gracie to follow: