Happy Birthday to the Indomitable Rickson Gracie
Written on the 28 October 2021 by Instructor Giorgio Repice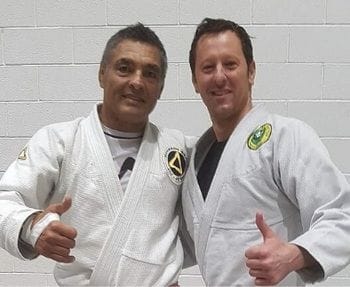 Happy Birthday to Rickson Gracie born on 21st November 1958.
Rickson is a 9th degree red belt in Gracie Jiu-Jitsu and a retired mixed martial artist. He is the third oldest son of Helio Gracie. In November 2014 he became an inductee of the Legends of MMA Hall of Fame, alongside Big John McCarthy, Pat Miletich, and Fedor Emelianenko.
Rickson received his black belt in Brazilian jiu-jitsu at age 18. At 20, Gracie won his first victory against the famous 230-pound (104 kg) Brazilian brawler Casemiro Nascimento Martins, known as "Zulu". With this victory, Rickson gained immediate national acclaim. Five years later Zulu requested a rematch and lost to Rickson again, in Maracanazinho before an audience of 20,000 spectators.
In 1994, Rickson competed in his first Vale Tudo (no holds barred) in Japan and won the tournament. A year later, Gracie was invited again to the next Vale Tudo Japan and won a second time in a row. This second tournament is depicted in the famous documentary "Choke" where he is featured, watch below:
Gracie also went on to fight and win in Japan's Pride 1, Pride 4 and Colosseum tournaments. He amassed an MMA record of 11 wins and no losses. In 2003 Rickson confirmed that he is officially retired and wanted to focus on giving seminars on Jiu-Jitsu and to try to develop BJJ as his father saw it: not a fighting tool but a social tool, to give confidence to women, children, and physically weak individuals by giving them the ability to defend themselves.
Rickson Gracie has four children, Rockson Gracie (deceased), Kauan, Kaulin and Kron Gracie. He remains unbeaten in BJJ and MMA and is considered one of the greatest BJJ Practitioners of all time.
His website is www.ricksongracie.com
Author:
Instructor Giorgio Repice