Kinetic Fighting - Australian Army Combatives
Written on the 7 February 2020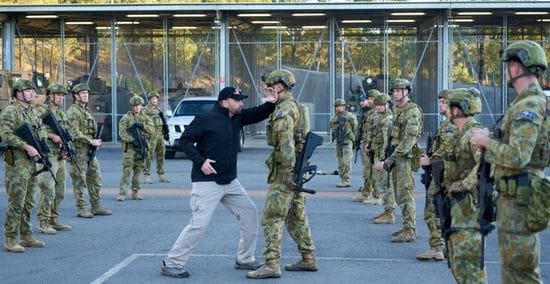 Kinetic Fighting (KEF) are world leaders in combat and skills enhancement. An elite team, comprised of former Australian Special Forces members and martial arts experts, have developed highly-advanced and customised skills-enhancement courses for the Australian Defence Force and other government agencies.
This training is now is being offered to civilians!
* Learn the training and mindset of a special forces soldier. No experience necessary.
* Adaptable to any martial art or professional operational procedure.
* Suitable for civilians & front-line operators, from beginners to professionals.
* Backed by Paul Cale's 25+ years of career military experience & 40 years in martial arts, as well as Geordie's own extensive experience and qualifications.
The Alpha Level 1 course will be held @ GIANT Martial Arts on Friday, February 28th 2020 from 6pm and hosted by Combatives Master Trainer (CMT) Geordie Lavers McBain. This will be a good step to set yourself up for Alpha Level 2 and Bravo Level 2 being hosted by Paul Cale himself on the Saturday and Sunday of the same weekend.
Click here for cost and registration for all courses.
Who is Paul Cale?