Outdoor Training Camp - September 2019
Written on the 23 September 2019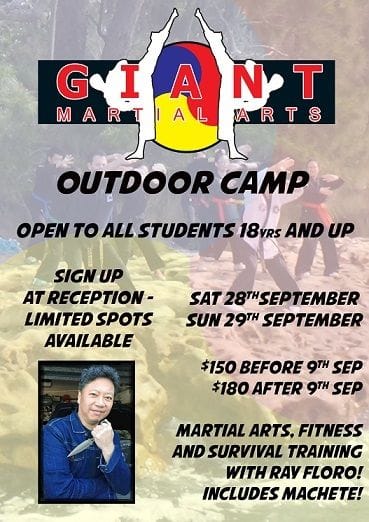 Get ready to train in the great outdoors!!!
You will get to experience everything we do in everyday classes down at the whitest sands Earth...Greenpatch Jervis Bay!
The overnight camp focuses on health, teamwork, survival and combat in various outdoor environments. Expect exercise, breathing meditation and movement on uneven terrain. We have run these camps for over 10 years and no casualties yet so expect safety and enjoyment to be our highest priority!
This camp will be quite special and different to previous as we have also invited our Weapons coach Ray Floro who will be running a session on survival A training Machete will also be included in the camp fee.
Check out highlights from the 2019 camp below:
Location: Greenpatch Camping Ground, Booderee National Park, Village Road, Jervis Bay
Arrive: from 10am Saturday the 28th September and leave 12pm Sunday the 29th September.
Cost: TBA. The cost includes camp fees, dinner, breakfast, snacks, three training sessions plus a Machete.
Check out previous camp footage below: