Tips for Martial Arts training this winter...
Written on the 20 June 2021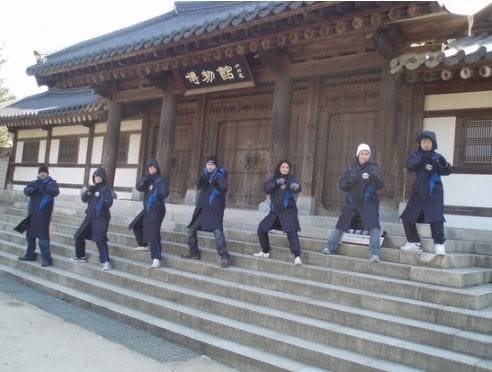 See pictured Instructors Giorgio & Anthony with a team on a winter training trip in South Korea.
Take note of the following tips to train injury free during Winter:
Arrive Early
No, not to turn the heating on. To warm yourself up. In winter, it's particularly important to engage in a rigorous warm up. This isn't just to make you feel warmer (it will) but to reduce the chances of soft-tissue injury during training as well. It's highly recommended to come down a few minutes early if you can to go through your own personal warm ups and stretches.
Layer Up
Start your session in a hoodie or layer up with skins or t-shirt under your uniform to get warmer faster. You'll be surprised how much this helps! You might be a little more cold-resistant than most however, and might not need any of this! Likewise, after training make sure to get clean and dry faster than usual.
Heads, shoulders, knees, and...
Toes. Believe it or not, you should loosen and warm up your feet just as much as the larger sections of your body. Sit and manipulate your toes and feet to stretch and move them around, and get the blood flowing to your extremities. This can help you feel a little warmer and help prevent toe injuries and strains.
And finally.
Don't stay on the couch.
During winter, it can be tempting to stay at home on a cold evening. Don't!!! Get yourself along to training and once we're about 5-10 minutes in, you won't be cold anymore anyway! Martial Arts are indoor sports so we're lucky enough to be more or less not at the mercy of the weather!