Brazilian Jiu Jitsu and MMA Coach Anthony Perosh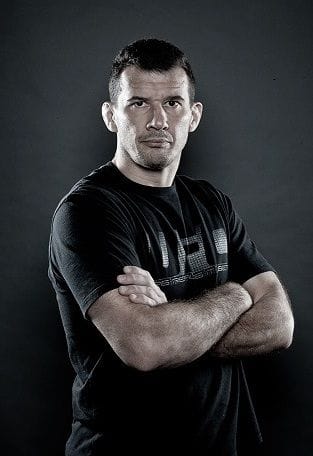 Anthony Perosh is a pioneer of Mixed Martial Arts in Australia, a UFC (Ultimate Fighting Championship) Light Heavyweight veteran, Muay Thai Kickboxing coach and 4th Degree Brazilian Jiu Jitsu (BJJ) Black Belt.
He was born and raised in Sydney and is of Croation descent, he began his training in Martial Arts in 1994 in traditional Karate at the age of 21.
In March 1995 Anthony started Kempo Karate and Muay Thai with Paul Zadro and started in BJJ in January 1996 under Anthony Lange. Anthony Lange was a blue belt, the highest rank in New South Wales at the time. Anthony Lange's coach was John Will and head of Will-Machado Australia.
In 1997 Anthony moved to Dallas, Texas, USA to train with Carlos Machado (World BJJ Champion) for just under 3 years. In August 2003 Carlos Machado presented Anthony Perosh with a Black Belt in Machado Brazilian Jiu Jitsu.
Anthony has competed on all levels in BJJ and has won competitions including:
Double Gold Medal 2018 World Brazilian Jiu Jitsu Championships - Black Belt
Bronze Medal 2003 World Brazilian Jiu Jitsu Championships - Brown Belt
Silver Medal 2000 Pan American BJJ Championships - Purple Belt
Bronze Medal 1999 World Brazilian Jiu Jitsu Championships - Blue Belt
5 time ADCC veteran
10 time Australian BJJ Champion
Anthony made his MMA debut in November 2003 winning an 8 man heavyweight tournament in one night. In 2006 Anthony fought in the UFC twice in the heavyweight division and lost both matches. He was released from the UFC after that. Anthony dropped to Light Heavyweight and was very successful on the Australian circuit.
In February 2010 the UFC came to Australia for the first time. Anthony accepted a match on two day's notice to fight Mirko "Cro Cop" Filipovic in front of his home crowd in Sydney. He lost by TKO at the end of the second round due to a cut on the forehead.
In his next match Anthony won his first UFC match in February 2011 defeating Tom Blackledge by rear naked choke. Anthony has won 5 of his last 8 matches in the light heavyweight division in the UFC defeating Tom Blacklege, Cyrille Diabate, Nick Pennar, Vinny Magalaes and Guto Inocente. This included a 14 second knock out of Vinny Magalaes at UFC 163 in Rio, Brazil on 3rd August 2013 (watch below).
In his most recent match Anthony lost by TKO in the first round against Gian Villante at UFC 193 in Melbourne. Anthony then retired from MMA competition in January 2016.
His mixed martial arts record is as follows:
Total fights 25
Wins 15
By knockout 5
By submission 10
Losses 10
By knockout 7
By decision 3
His nickname, "The Hippo," derived from his specific Jiu-jitsu game; his use of pressure from the top position made his training partners frustrated and say: "Get off me you hippo!"
Check out a more comprehensive bio of Anthony on Wiki and BJJ Heroes.
Anthony Perosh coaches GIANT Instructors Giorgio & Anthony Repice in BJJ, Muay Thai Kickboxing and MMA.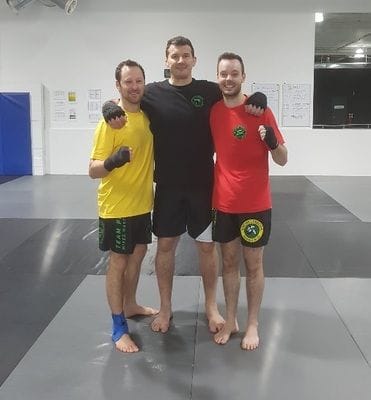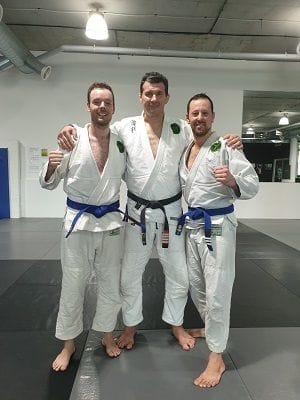 See an MMA highlight reel of Anthony Perosh below: