Instructor Giorgio Repice
Giorgio first trained in Karate under Master McGill at Canterbury Boys High School in 1989. After a few years, the Karate school relocated and he took up Rugby and Soccer instead. He returned to Martial Arts with his brother Anthony in 2004 and began teaching as a full time Martial Arts Instructor for Master Ryoo from 2007 to 2010.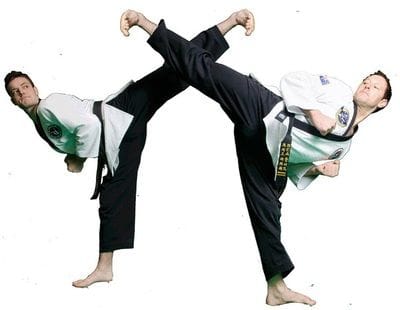 His attitude is to "always stay the student and enjoy the journey". His greatest joys are his student's success.
These are the reasons he continues to turn up and teach tirelessly despite his full time career and family commitments.
Giorgio ran Martial Arts classes at the Marrickville PCYC in 2008. This dojang has since moved to what is the full time location at Giant Martial Arts in Bexley, a dream come true for the brothers.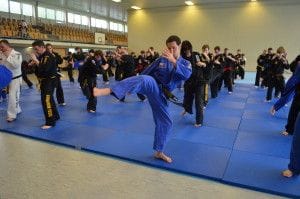 In 2012, Instructor Giorgio was honored to receive the title of Director Representative for Gongkwon Yusul (Modern MMA Combat version of Hapkido) in Australia from the arts Founder, Grandmaster Kang Jun. He was committed to growing the popular and eclectic art around the country and trained overseas in South Korea and Germany with a team of students Click for Germany trip video 2014. He had expanded the art to five states within Australia, hosted Grandmaster Kang on a two week national tour, graded 7 black belt students and held two National Tournaments (2013, 14).
In addition to Hapkido, Gongkwon Yusul and Weapons, Giorgio's journey continues training and competing in the art of Brazilian Jiu Jitsu with Coaches and veteran UFC fighters Anthony Perosh and Elvis Sinosic.
To date he has been extremely thankful to have met and trained with great masters and instructors such as:
Grandmaster Young Seol Ryoo 2004 (Hapkido, Danta and Gumdo)
Master Jaesung Shin 2004 (Hapkido, Judo and Bodybuilding)
Master Young Kil Kim 2004 (Taekwondo and Hapkido)
Master Daniel Marie of the Australian Hapkido Association 2007 (AHA)
Master Kevin Brown 2007 (AHA)
Grandmaster Yun Sang Kim 2007 (Hapki Yusul)
Grandmaster Kang Jun 2009 ((Gongkwon Yusul (Modern Combat Hapkido) and Yeomtasul (Short Stick Combatives))
Master Geordie Lavers 2013 (Modern Systems, MMA, Judo, Muay Thai Kickboxing and Brazilian Jiu Jitsu)
Master Quak 2013 ("Chon Jo" Art of Meditation and Pressure Points)
Master Jiang 2014 ("Kumooyeh" Art of Sword and Archery)
Master Jim Sheedy 2014 (Taekwondo)
Benny "The Jet" Urquidez 2014 (Kickboxing and Karate)
Professor Royce Gracie 2015 (Brazilian Jiu Jitsu)
Coaches Anthony Perosh and Elvis Sinosic of SPMA 2015 (Brazilian Jiu Jitsu, Muay Thai Kickboxing and MMA)
Professor Rigan Machado 2016 (Brazilian Jiu Jitsu)
Grandmaster Roger Quick 2016 (Japanese Jujitsu)
Professor Carlos Machado 2017 (Brazilian Jiu Jitsu)
Coach Raymond Floro 2017 (Weapons Guru - Floro Fighting Systems)
Professor Rickson Gracie 2017 (Brazilian Jiu Jitsu)
Chuck Norris 2018 (Actor and Black Belt in multiple styles)