Master Geordie Lavers-McBain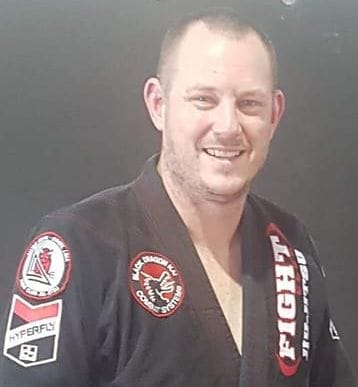 Master Geordie Lavers-McBain is a full-time martial arts instructor and founder of Black Dragon Kai Combat Systems with clubs located across Queensland including two full time centres located at Beaudesert and Jimboomba.
He is an instructor in Modern Martial Arts, Muay Thai Kickboxing, Brazilian Jiu Jitsu, Sport MMA, Kudo and Wrestling. Geordie is also actively involved with local council and schools promoting self defence techniques to both Beaudesert State High School and The Kooralbyn International School as part of their sports curriculum.
As well as training athletes and civilians, Geordie is also a registered contracted instructor to the Australian Army.
Master Geordie's history in the martial arts encompasses a number of styles that he has been involved in since the age of eight. Initially in Kung Fu and Taekwondo and then in Zen Do Kai Karate and Muay Thai. Geordie has also trained in Iaido/Kenjutsu, Arnis/Eskrama/Kali, Brazilian Jiu-Jitsu, GoJu-Ryu Karate, Judo, Aikido, Savate & Kempo Karate to name a few.
Master Geordie first met Instructor Giorgio many years ago when Geordie showed interest in the Mixed Martial Art of Gongkwon Yusul. The friendship began with Master Geordie learning the system from Instructor Giorgio who graded Geordie to 1st Degree Black Belt in 2014.
Since then, Instructor's Giorgio and Anthony have been sharing knowledge with Geordie, learning Taekwondo, Muay Thai, BJJ, MMA, Judo, Army Combatives and weapon systems.
He has an enormous resume of accomplishments and accreditations some of which are:
AFFILIATIONS & ORGANISATIONS
- Australian National Director of Combat Wrestling
- Qld Director of Australian Brasilian Jiu Jitsu Federation
- International Branches Chief for Jissen Budo International
- Executive Member Martial Arts Representative Council
- Member International Martial Arts Alliance #420
- Member of Jui Jitsu & Grappling Association of Australia #386
- Member of Judo Federation of Australia (Qld) Inc. #QLD336
- ICMA International College of Martial Arts affiliated instructor
- Retired Security Officer/Crowd Controller #43779
COMPETITION
Brazilian Jiu Jitsu
- Silver Medal in the SJJIF World Championship (Black Belt)
- Bronze Medal in the SJJIF World Championship (Black Belt)
- Thailand Inernational Openweight Champion IBJJF
- Pan Pacific Openweight Champion AFBJJ
- Australian Openweight Champion AFBJJ
- Gold Coast Openweight QBJJC Champion (Black Belt)
Full Contact Karate
- Australian Ring Karate Champion WKA
- Queensland Ring Karate Champion WKA
- 5 x Red Dragon Champion ZDK
Judo
- Member of Queensland Judo Team 2010
- 4 x Gold Coast District Champion
Open Style
- South East Queensland Champion NMAL
- Bayside Open Champion NMAL
MARTIAL ARTS QUALIFICATIONS
- Combatives Master Trainer ACP-IC/KEF-IC (Kinetic Fighting Systems)
- Army Combatives Program Level 3 Instructor - Australian Army
- 7th Degree Black Dragon Kai (Kokurukai) Kaiso
- 6th Degree, Jissen Budo Shihan
- Probationary 6th Degree, Bushikai Karate Dai Shihan
- 5th Degree, Zen Do Kai Karate Shihan
- 6th Degree, ABK Muay Thai Kickboxing Ajarn
- 6th Degree Freestyle Taekwondo Master Instructor
- 5th Degree, BJC Muay Thai Kickboxing
- 5th Degree Ninjutsu Kokusu-ryu
- 5th Degree Black Belt Sport Mixed Martial Arts (BDK/FCJJ)
- 3rd Degree Black Belt - Shoot Wrestling
- 3rd Degree Iaido (Ishin Ryu Iaido)
- 3rd Degree Black Belt (Level 12) - Knife / Counter Knife Combatives (SFC)
- 3rd Degree Black Belt (Level 12) - Unarmed Combatives (SFC)
- 3rd Degree Black Belt - Kempo Karate Jujutsu (Hock System)
- 2nd Degree Arnis/Eskrama/Kali
- 2nd Degree Black Belt Brazilian Jiu Jitsu
- 1st Degree Black Belt - Gong Kwon Yusul
- Black Belt Kudo
- Black Sash Kung Fu (Leong Fu - Karato Atado)
- Black Sash - Shaolin Award of Recognition
- Boxing Coach Level 1 (Boxing Australia Incorporated / NCAS)
- Wrestling Coach Level 1 (Wrestling Australia Incorporated / NCAS)
- International Wrestling Coach Level 1 (United World Wrestling)
- Brown Belt Judo (Judo Federation of Australia) - Coach Level 1
- Yellow Belt Combat Aikido
- Orange Belt - Submission Arts Wrestling (SAW)
- Green Glove - Savate (Boxe Française)
- Blue Pommel - La Canne


AWARDS
- Australia Day Award - Senior Sports Person in the Beaudesert Shire
- Inducted into Australian Martial Arts Hall of Fame (Instructor of the Year 2008)
- Inducted into World Karate Union Hall of Fame (Instructor of the Year 2008)
- Gold Kai
- Gold Bushido Cross
- Gold Senjo Cross
- Fight Club Jiu Jitsu - Most Outstanding Student in 2009
RELATED QUALIFICATIONS:
- Sports Power & Weightlifting Coach Level 1 (2006)
- Advanced Diploma of Sports Coaching (2006)
- Diploma of Sports Coaching (2005)
- Certificate 1V Workplace Assessment & Trainer (2004)
- Security Officer/Crowd Controller & Weapons Training Courses National Security Training Academy (1996)
To read more about Master Geordie and his systems click Black Dragon Kai Combat Systems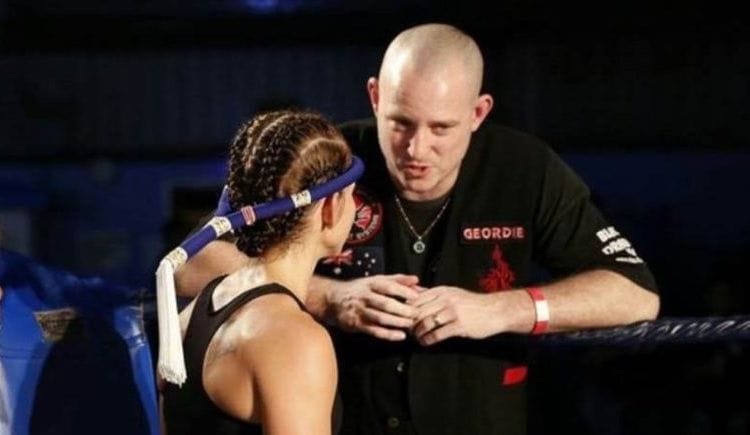 Muay Thai Coach in Action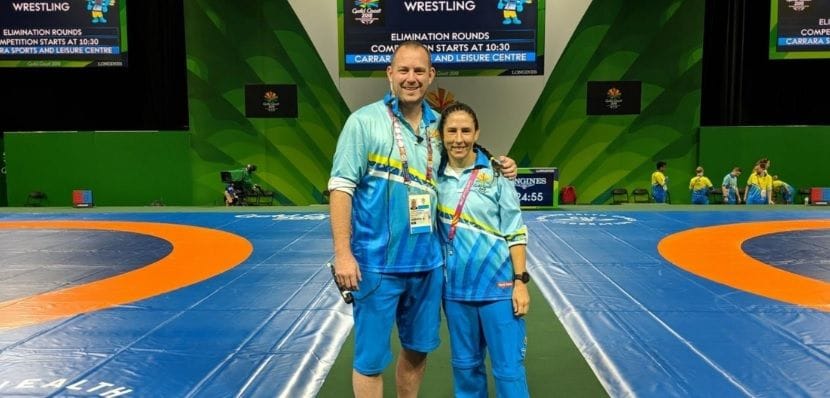 On the wrestling mat with champion wife Jessica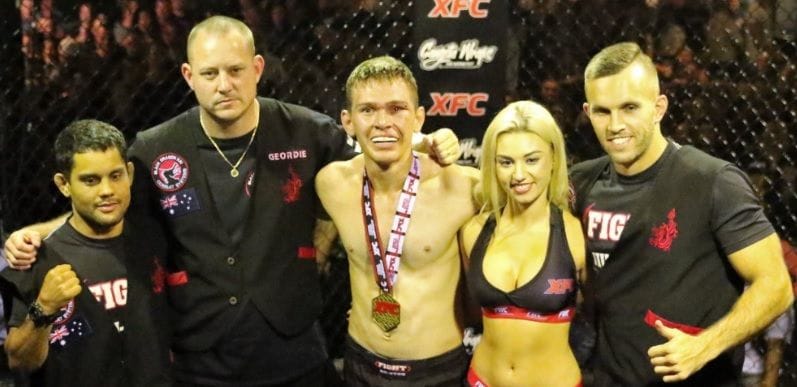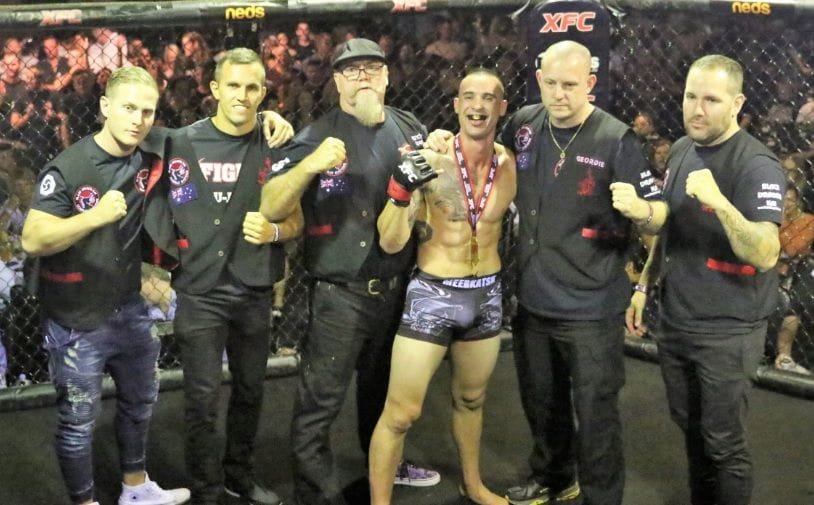 BDK Team winning in the cage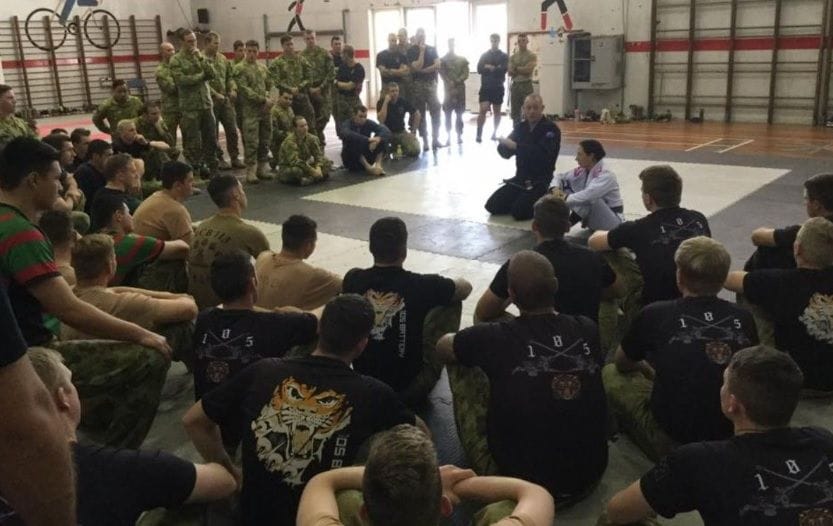 Training the Military 2019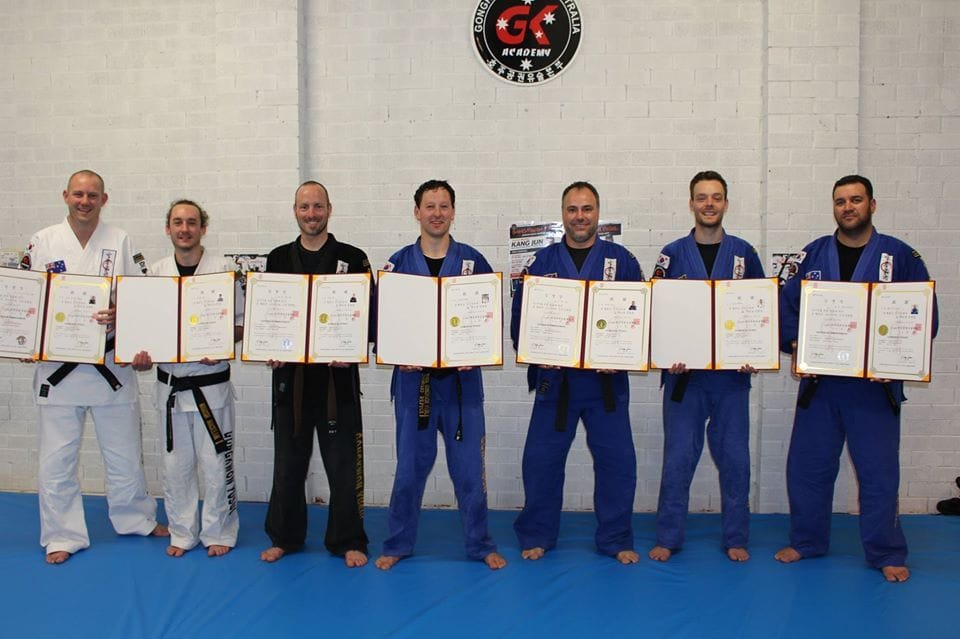 Graded in Gong Kwon Yusul 2014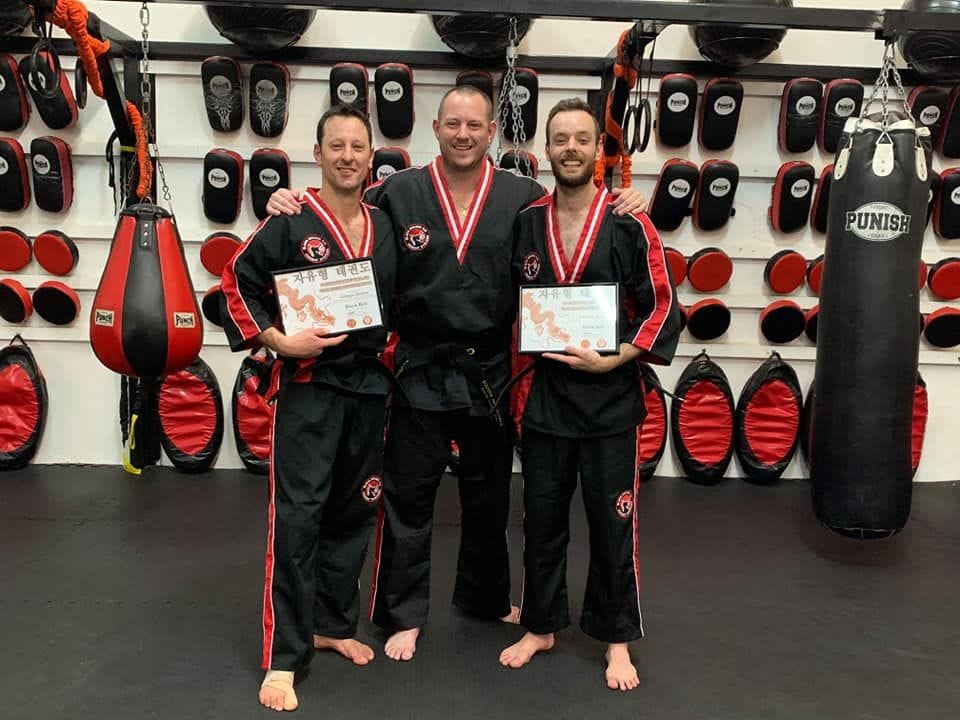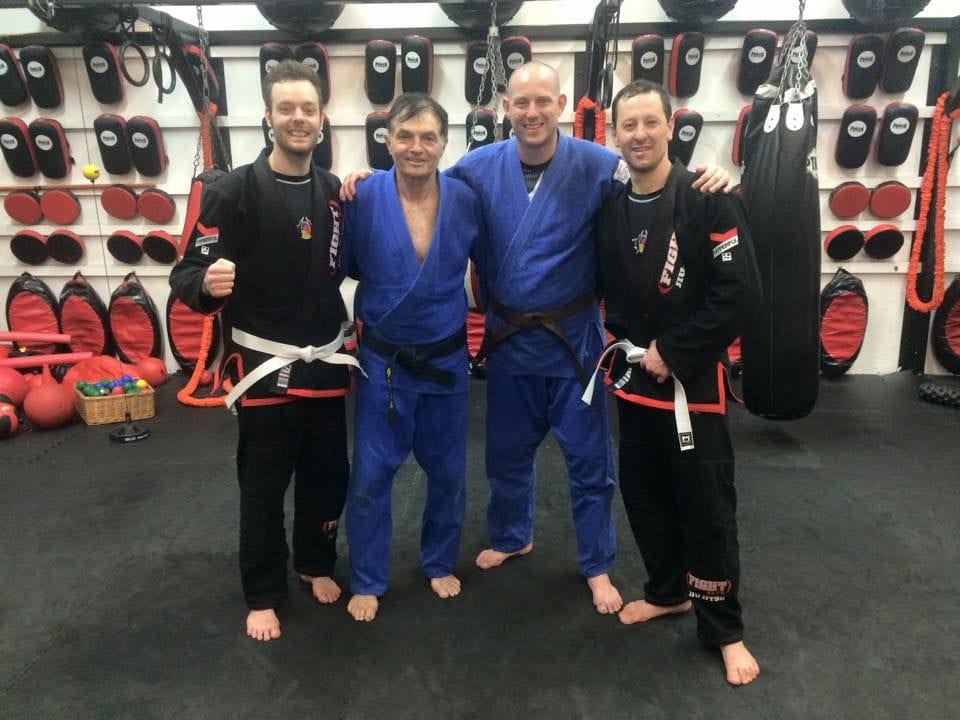 With Judo coach Steve Potter 5th Degree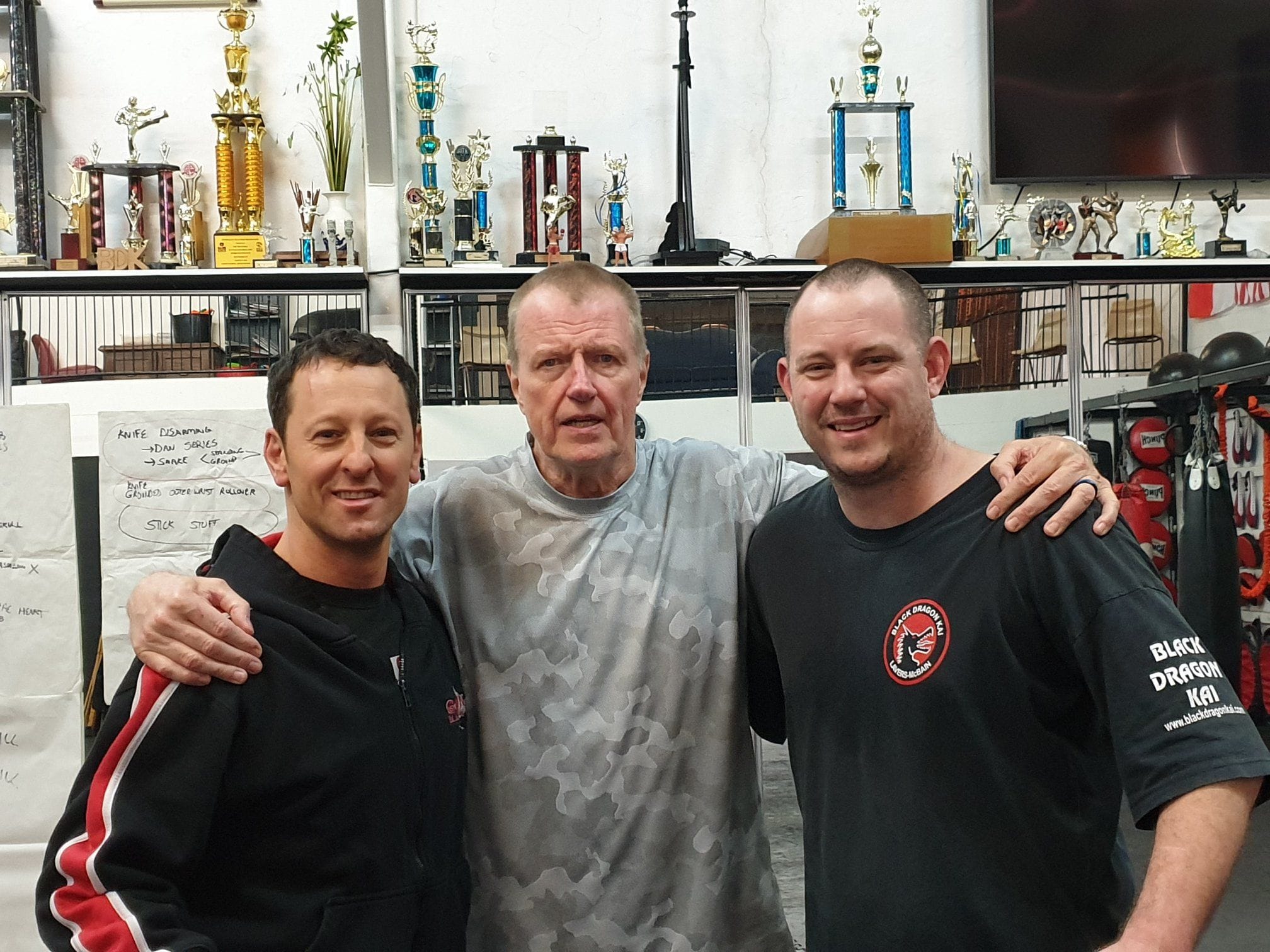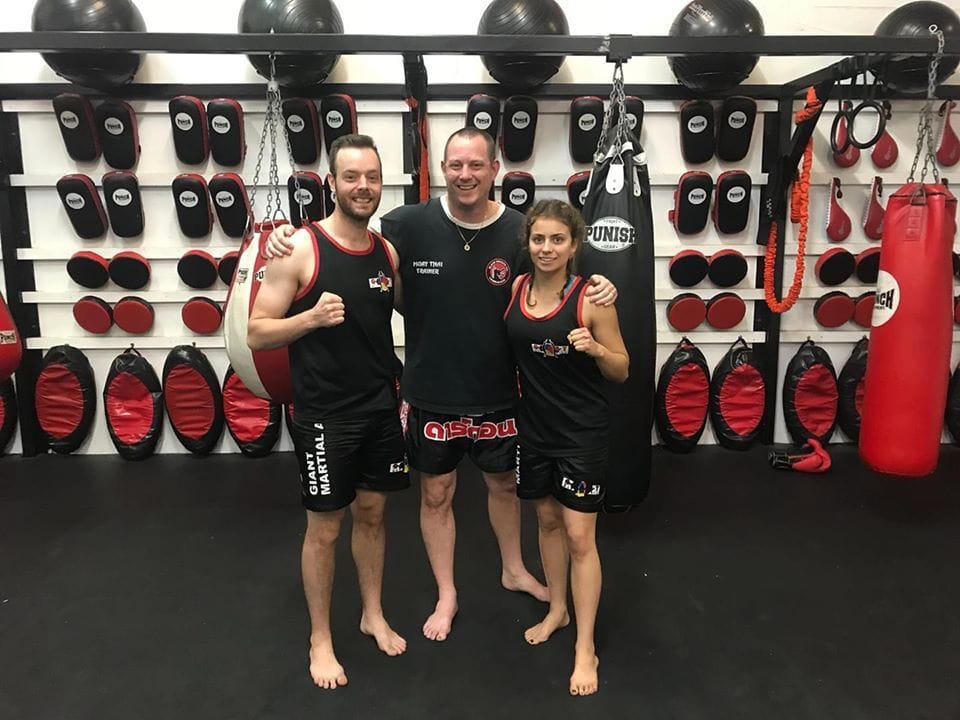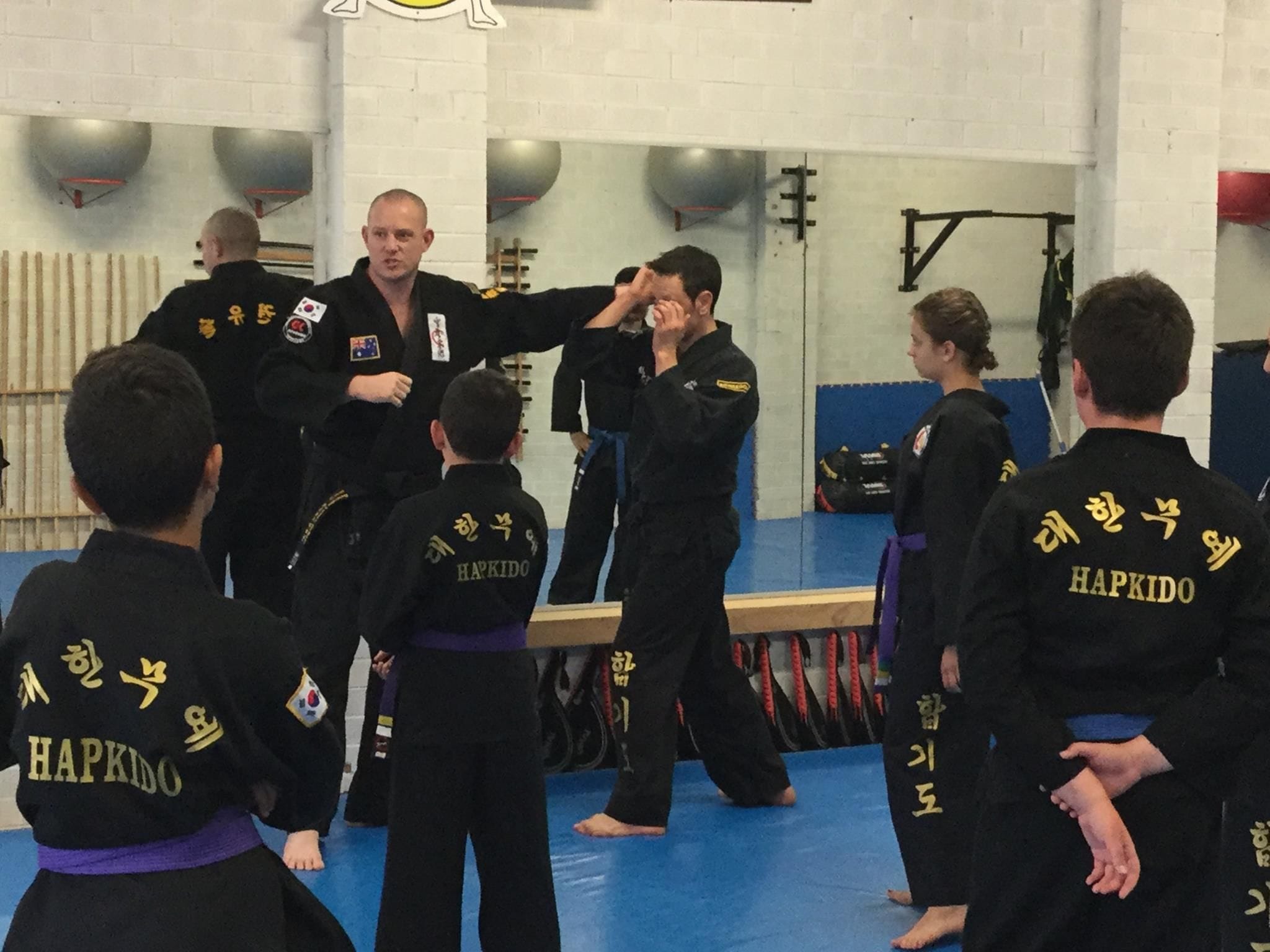 Teaching a Seminar @ GIANT 2016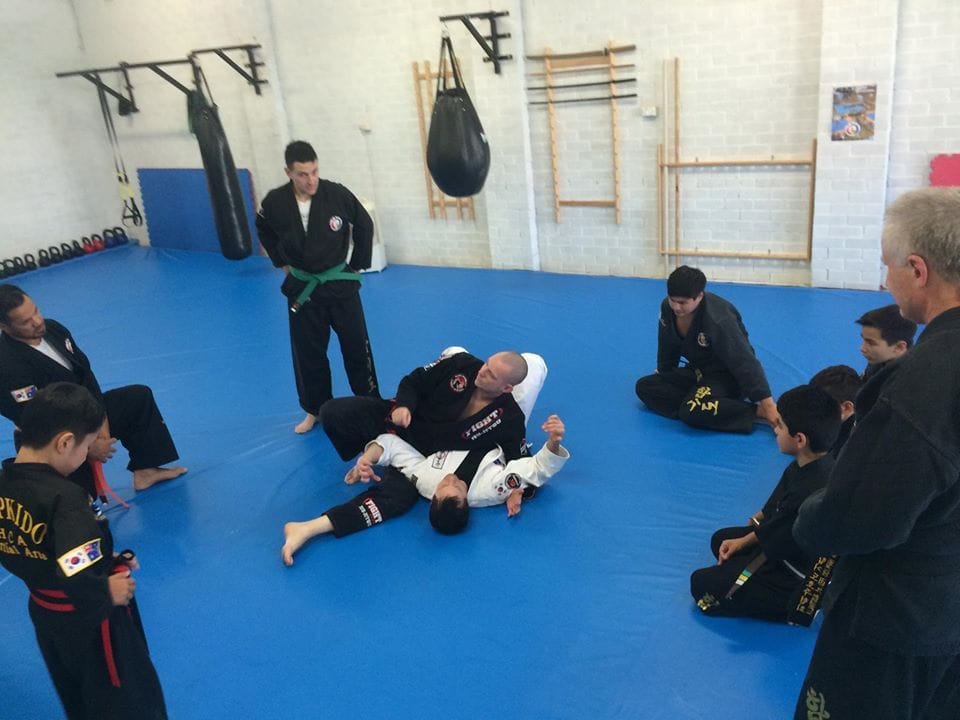 Teaching a Seminar @ GIANT 2015